Artistes sans Frontières - event from 2021-3
Film screening of Body & Art by Fatma-Zohra Zamoum
Saturday 29 May, 7 pm
online screening by the ZKM, Zentrum für Kunst und Medien, Karlsruhe, Germany
Body & Art is a retrospective of an artistic performance by Gunter Brus in the streets of Vienna, Austria, in 1965.
With Gunter Brus, Peter Weibel, Eva Badura Trischka and Yves Michaud.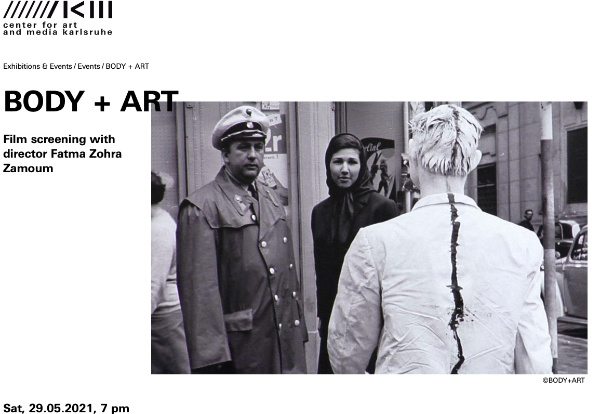 Access to the film via the website ZKM, 29 May 7 pm
Success
Artistes sans Frontières is proud to announce that two team members de l'équipe have obtained their diploma : Lilia and Raky are now confirmed as dev full stack !
Internet platform for Fatma-Zohra Zamoum - documentary film
Artists Without Borders creates websites in the field of culture and art. Since the beginning of the pandemic, we have offered more internship places than before, to allow young developers to complete their training.
Fatma-Zohra Zamoum has made many films - documentaries, fiction, historical films, feature films and short films. These films have been shown on TV channels such as Arte, in cinemas, and at festivals around the world. Fatma-Zohra Zamoum has won many awards.
For her next feature film, Fatma Zohra wants to do research and take a behind-the-scenes look at this new virtual reality. This led us to a joint project, which started in May 2021: Artists Without Borders creates a web platform for the filmmaker, with two interns: Zina, from the Women in Digital project and Metin, from the Ifocop group, who has just joined the team.
Fatma-Zohra Zamoum is making a short film about this project and especially about those who develop it, and who have decided, at some point in their lives, to convert into a "dev full stack". This radical change, which requires work on oneself, to adapt to a profession sometimes very far from their previous experience, is at the heart of the film project.
If the training offers the foundations, the most intense transformation takes place during the internship, by investing themselves into a real project.
To direct the film, FZZ is involved in her project as an immersion journalist, she follows and films a weekly working session of her project.
To show the interactions between developer teams and also to integrate all our interns, Fatma-Zohra also films during the scrum of the entire team, when the FZZ team exchanges with the ARA team (Raky and Lilia from Women in Digital), who are working on a slightly different project but with the same technologies.
FZZ will conduct interviews with all our interns and film on our premises as soon as the covid situation allows it.
The film is a documentary about the creation of the platform, a portrait of the protagonists who carry out this project and our association, which welcomes them. But also a magnificent reality of art and its adaptation in times of crisis, on the part of artists of all dimensions, ages and skills combined.
Here you will soon find a link to the current project and later to the film - The interns' area
---
Artistes sans Frontières - France - 06 32 95 40 90