Artistes sans Frontières - event from 2004-3
Open doors
Saturday 20 and Sunday 21 november 2004
from 14 to 20 h
7, Impasse du Rouet
Exhibition: Doug Petrovic and Jacqueline Cauet
Since the last Open Doors in May 2004 our Paris office did change once more: We realised further renovation work and constructed a work space for an artist, which allows him to work "upstairs", to receive visitors at ground level and to exhibit his work on the whole space.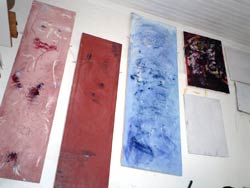 Work in progress for the Open House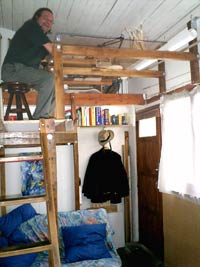 This working place was constructed with hundred year old oak wood and a huge table top in plexiglass, to reduce neither the height of the room nor the light.
These two very different materiels, the solid antique oak wood pillars and the plexiglass, allowed us to create a very modern design without changing the spirit of the old artist's work shop.
Exposition au Musée Atelier Adzak
3 rue Jonquoy, 75014 Paris, tél. 01.45.43.06.98
Didier de Nayer, Philippe Descharmes and Luc Gueronnet: Photographs "De Natura"
Monday, November 8 to Tuesday November 23, 2004
Vernissage Tuesday, November 9. November 16 Claude-Marie's poetry from 18:00.
From Thursday 16 to Friday 24 December 2004
Vernissage the Thursday, December 16 from 18:00.
Forecast for February - March 2005:
Exhibtion of the members of Artistes sans Frontières in Paris
---
Artistes sans Frontières - France - 06 32 95 40 90