Artistes sans Frontières - event from 2012-4
Mois de la Photo - Photographie Month in Paris
Show: The photographer's of the 14 arrondissement
9 - 18 November
Mairie Annexe
12 rue Pierre Castagnou
M° Mouton-Duvernet
Organized by the mayor of the 14 Monday to Friday, 11 - 18h, Saturday and Sunday, 11 - 19h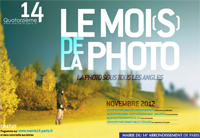 Download the program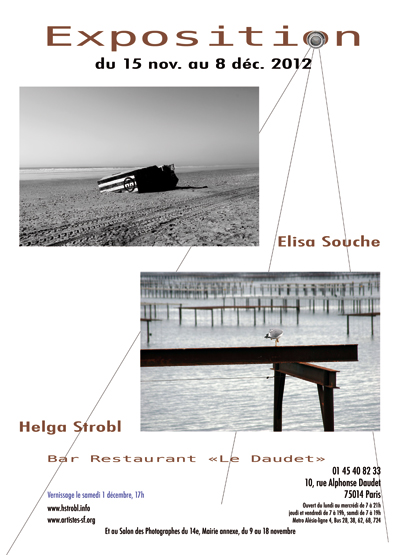 Elisa Souche and Helga Strobl, exhibition poster 2010
Traces / Pérégrinations
Helga Strobl and Elisa Souche
15 November - 8 December 2012
Monday to Wednesday 7h - 21h
Thursday and Friday 7 - 24h
Saturday 7h - 20h
Vernissage Saturday, 1 December,17h
Bar Restaurant "Le Daudet"
16 rue Daudet, Paris 14e, Tél. 01 45 40 82 33
Métro Alésia, ligne 4. Bus 28, 38, 62, 68, 724
Elisa Souche
There are days like that, adverse wind. The elements get tangled, spongy earths, heaven haloed with gray ink, waters gorging the slightest scratch of the ground..
A handful of derisory crosspieces, thrown in Mikado, mark the limits of human control: calamitous enclosures and portals heavy with meaning, boats and canals forming an obstacle course, pretend to corset space.
On the other side of time, each one walks his secret Sea of ​​Aral where the ships stranded, block the horizon of messages of love, wait for the flood.
Elsewhere, in the palette of antique Provencal frames, sometimes the mischievous azure seems to rise from the ground.
---
Artistes sans Frontières - France - 06 32 95 40 90