Artistes sans Frontières - event from 2006-5
Exhibitions announcements:
Ulysses Belz exhibit in Germany: "Zurück zur Figur"
Kunsthalle der HYPO-Stiftung, München 2 June - 13 August 2006
exhibits at the Montparnasse Gallery,
55 rue du Montparnasse, 75014 Paris,
1st - 15th september 2006
Monday to Saturday 11h - 19h
Vernissage the Friday 8 september, 18:30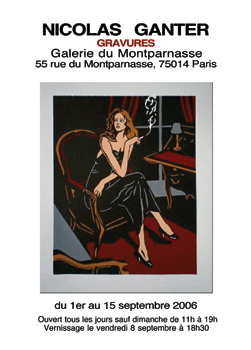 will exhibit together at the Loftgallery
beginning of September. Suzan Rasmussen, who lives in Utah will come to Paris for the exhibition.
Finissage: 7 september 2006
Loftgallery, 88, rue du dessous des Berges, 75013 Paris
Metro: Bibliothèque François Mitterand, 14 et RER C
Bus: Patay-Tolbiac, 27, 62 et 132
Espace de la Porte Champerret, Place de la Porte de Champerret, Paris XVIIe
which will take place 23 - 25 September.
Saturday 23 September 2006: 2pm - 10pm Vernissage
Sunday 24: 11am - 7pm Artist's aperitif
Monday 25: 12am - 7pm Vernissage
Académie Internationale de Lutèce, espace 2001, salle Next Step, 9 - 11, cour Debille, 75011 Paris,
22 - 29 October. Vernissage: 21 October, 6pm.
FMP, fédération mutualiste interdépartementale de la région parisienne, 24 rue St. Victor, 75005 Paris,
Tuesday 7 November: vernissage and one day show
Summer activities:
We organize painting and sculpture workshops in the center of France, in the Alier.
Small groups, stay at the hotel or in the farm / guesthouse , meals and training. Details on request.
---
Artistes sans Frontières - France - 06 32 95 40 90